Energy Efficient Buildings
System solutions for modern HVAC installations.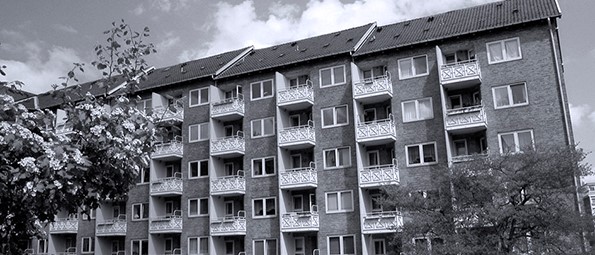 According to the Danish Council on Climate Change, Denmark's transition towards 2030 requires the proper building bricks to be put together correctly, so that the vision of an energy-efficient society materializes.
The media of today have great focus on new buildings and passive houses. It would, however, be an advantage also to energy retrofit the existing housing stock – to benefit the comfort and finances of the owners, society and the climate.
The requirements to the renovation process and the partners involved in the complex task are however quite high.
Bispevænget – Energy retrofitting example in Copenhagen North West. In the Copenhagen North West district, the Bispevænget apartment blocks have been through a substantial upgrading and they are an excellent example of the renovation of the existing Danish housing stock. The 662 apartments were built as blocks of flats in 1941. Great efforts have been made to make the apartments more energy-efficient and to improve comfort and the indoor climate for the residents. The heating installations in the heating plants have been renovated and so have the domestic water and heating installations in the individual apartments.
Brøndum A/S – HVAC engineering contractor making the Danish Climate agenda come true. The actual renovation of Bispevænget was made by the Hvidovre department of Brøndum A/S. Brøndum designs, installs, implements and provides service to energy efficient quality solutions within HVAC, ventilation, sprinkler, district heating and cooling for buildings and industrial plants in Denmark and Greenland as well as internationally and is today one of the most experienced engineering contractors in Denmark.
Brøndum A/S has been in the market since 1943, has a staff of 400 persons, has nine locations in Denmark and departments in Greenland in Nuuk, Sisimiut and Ilulissat.
For the renovation of Bispevænget Brøndum has applied the entire system package from BROEN in Assens – including water, heating and regulation. John Tankmar, department manager at Brøndum, says, "When we undertake that large apartment block renovations, it is important, that we can rely on the quality and that we work with experienced companies, who can supply all that we need – and advise and assist us. The individual components must of course work, but the regulation of the entire system is just as important, so that overall it works optimally – BROEN has been of great help in this respect."
 

 

 

 

 

 

 

 

 

 

Ballorex Venturi – flow regulation of district heating in multi-storey buildings – a combination of flow measuring, presetting and shut-off.

 

Ballorex Delta reduces overflow, secures hydronic balancing and reduces energy consumption

Ballorex Thermo – the optimum solution as circulation valve in domestic water systems.

 

BROEN Inliner

educes the loss of energy in circulation pipes.

VSH XPress – stainless or galvanized press pipe systems for domestic water and heating installations: pipes, elbows, Tees, reducers and connectors.

VSH Tectite reliable push system from VSH Tectite to be used for water, heating and cooling installations.

 

BROEN Ballofix® in the event of stress corrosion. This shut-off valve in red brass shuts off effectively in corrosive areas.
A selection of BROEN's range for modern HVAC installation.
BROEN – the supplier of complete system packages for flow control in building installations. With an increasing demand for efficient infrastructure in modern housing BROEN offers building installation solutions based on long experience of creating value with flow technology. With BROEN Ballofix® we offer the widest range of valves in the market as well as a complete HVAC system package for flow control in building installations in residential, commercial and public buildings in all Nordic countries.
Jesper Højen Laage: "It is important to us, that our customers understand, that it is not just a question of a component – the entire system must operate as one unit. We are innovative and create solutions on the basis of a complete range of components combined with 70 years of experience, training, problem solving and consultancy."
KAB – Denmark's largest non-profit housing association administrator
Bispevænget is owned by AKB, Copenhagen, a non-profit housing association with more than 8,000 homes and 50 geographical units all over Copenhagen. On the initiative of Frits Ortmann, Attorney at Law, AKB was founded by a number of cooperative companies in the building trade in 1913 and was given the name of "Arbejdernes Kooperative Boligselskab". AKB has no single owner, but is owned by its tenants.
The AKB homes are administered by KAB. KAB is a non-profit housing association administrator owned by a number of housing associations in the Copenhagen area. KAB cooperates with both non-profit housing associations and municipalities to build, let out and administer non-profit and council homes and residential areas. The administration activities include energy related matters and building consultancy. KAB administers approximately 50,000 tenancies.
KAB dates back to 1920 when "Københavns Almindelige Boligselskab" was founded to deal with the major problem at that time – the housing shortage. The originators belonged to the upper middle-class and the founder was F.C. Boldsen.
In 2007 a merger took place between AKB and KAB.