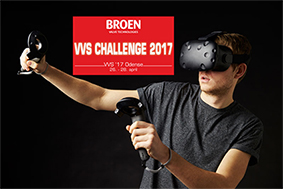 BROEN AT VVS '17 IN ODENSE, DENMARK
tiistai 22. toukokuuta 2018
More than 9,300 people went through the doors to visit more than 200 exhibitors at this year's VVS'17 - the best attended year of the trade fair ever. 
And the traffic had quality: "This fair was a great success for BROEN - all the right people paid us a visit and my team had great conversations, which will strengthen our position going forward – a real pleasure" says Danish Country Manager Jesper Hojen Laage.
"We had some great conversations and product trainings, where in-depth discussions strengthened our relation with existing customers, but we also managed to present our system solutions to new potential customers and are looking forward to follow these opportunities", says Jesper.
At VVS'17 BROEN also introduced and started a new industry challenge – the VVS Challenge.
This year a BROEN LinkedIn customer dialogue was started up weeks prior to the fair and customers were challenged in a VR game to get them very close to the design of the new upcoming VSH XPress valve to be launched later this year. Jesper Laage: "Customers produced a valve and installed it – though it was virtual reality, we gave them a chance to see and almost feel this new upcoming product. We seized new digital marketing opportunities and the customers liked the idea".
The game matched the overall theme of the fair "The modern installer" and was well visited as customers were curious about the new valve design and now prizes will be awarded to the fastest VR -Champ 2017 and to the VR-Rookie 2017 for young people under education. Stay tuned for announcement of the winners on our on LinkedIn-profile.
A great thanks to all the visitors at our booth – we are looking forward to VVS'19.